You'll love the cozy yet luxurious feel of this furnished rental near Ohio State! 
Highlights include a quiet corner location at the end of a hallway, stylish interior design with lots of natural light, and a private balcony.
The Buckeye Bungalow is available for month-to-month rental and comes 100% move-in-ready (exactly as shown in the photos).
When you stay with us, you get a lot for your money (see full list here).
But most importantly, you guarantee yourself comfort, convenience, and peace of mind.
You can reserve this apartment now for an all-inclusive rate of only $169/night or $5,070/month $129/night or $3,870/month. 
There's no easier way to rent a furnished rental near Ohio State.
OK, so let's review everything you'll get:
Resort-Style Pool
Relax and feel like you're on vacation with access to the stunning rooftop pool - open May-September.
Fitness Center
Get in the best shape of your life with a world-class fitness center and yoga room on the 5th floor.
Clubhouse
Luxurious clubhouse with billiards table, inspiring work spaces, and designer lounge areas.
Amenities Included With All Of Our Apartments
Cleaning Equipment/Supplies
Mailbox and Delivery Access
What's Special About This Furnished Rental Near Ohio State?
Prime location in a luxury building right next to OSU

Stylish interior design with upgraded finishes

Pet Friendly (<75 lbs)

Private balcony with urban views

Chef's kitchen with quartz countertops and stainless steel appliances

Cozy bar seating for 3 at the kitchen island

Work space with desk & office chair

Free secure garage parking for 1 car

100% smoke-free community
"Amazing stay! I loved staying here! It was perfect. Quiet, super easy access to the building & parking, central location close to the highway, plus the amenities of the apartment were top-notch. I worked night shift while here on a travel nursing contract and absolutely loved it. It was so nice being able to pop up to the pool on the weekends, or hit the gym after my shifts (the equipment available was AMAZING, this is one of the best apartment-complex gyms I've ever seen). I honestly don't have enough good things to say about this place. It was perfect!"
"Stayed 5 weeks and had a really nice experience. Apartment was immaculate and had nice touches on move in, such as enough coffee supply to get you through a couple of mornings etc. Over the course of the stay a couple of minor issues arouse and they were taken care of quickly and professionally. Communication, when needed, was fast, friendly and professional."
"Really liked my apartment. I was in the area for almost a month and needed a comfortable, clean, contemporary place. The location is pretty central and worked out well for me as I was working at the OSUWMC. Epicurean and the team are very good hosts, and this definitely will be my top choice if ever I am back in the Columbus area."
The Living Room
Welcome home!
Go ahead…change into that impossibly soft pair of pajama pants you love so much.
It's time to sprawl out on the sofa with a good book or your favorite show.
You'll have lots of options thanks to complimentary DirecTV and easy access to streaming services on the 50″ Smart TV in the living room.
Designed for comfort and lovingly decorated, the living room features a full-size sofa, modern swivel side chair, cozy lamp lighting, and classy decor.
Need to get some work done before you relax? This apartment was designed for WFH and comes with a comfortable office chair and desk, as well as dedicated (never shared) high-speed WiFi.
The Kitchen & Dining Area
When you get hungry, wander into your full-size kitchen and make yourself at home.
The kitchen in this apartment comes generously outfitted with quartz countertops, stainless steel appliances, and all the kitchenware you need to cook and serve a gourmet meal.
See a full list of everything we provide in our furnished apartments here.
Thanks to ample seating, you can even invite a couple of friends to join you! The kitchen island bar offers comfortable seating for 3.
Don't feel like cooking? No problem! DoorDash, InstaCart, and other delivery services are easy to use and will deliver to the drop-off station in the lobby.
The Bathroom
Unwind after a long day with a hot shower in the convenient walk-in shower – perfect for guests with mobility concerns.
The bathroom in this apartment is sparkling clean and surprisingly spacious.
You'll find it stocked for your arrival with lots of fresh white towels, a starter supply of toilet paper, and a complimentary welcome gift set of Asprey Purple Water toiletries.
The Bedroom
When the sun goes down and your eyelids get heavy, settle into your cozy bedroom for a restful night's sleep.
Guests rave about our beds, and for good reason – we've put a lot of time and energy into making sure you can sleep like a baby during your stay.
The king bed in this apartment features an award-winning Luxury Firm mattress from Winkbeds; our team's favorite (by far) out of all the mattresses we've tested.
Neatly made for your arrival, our beds are always outfitted with 100% cotton white linens and bedding from Frette; a favorite brand of 5-star hotels since 1860.
We even provide a LectroFan white noise machine on one of the nightstands – just in case the softness of our linens isn't enough to lull you to sleep.
Oh, and there's no need to live out of a suitcase here.
You'll have plenty of room to unpack and settle in with a spacious walk-in closet and full-size dresser.
The Balcony
When the morning sun rises, slip out of the covers and into your fluffy hooded robe: it's time for morning coffee on the balcony!
A hot cup of coffee with fresh air and an urban view is sure to be an inspiring start to your day.
We provide 3 types of coffee makers (Keurig, standard drip, and French press)….plus a complimentary can of Alto Grande; a premium coffee that our Founder brought back from a recent trip to Puerto Rico.
Laundry & Supplies
You'll love the convenience of having a full-size washer and dryer in your apartment!
We even provide an iron + ironing board, as well as a starter supply of laundry detergent and many other cleaning products (dishwasher detergent, dish soap, various cleaning sprays, Swiffer pads, etc.).
The Location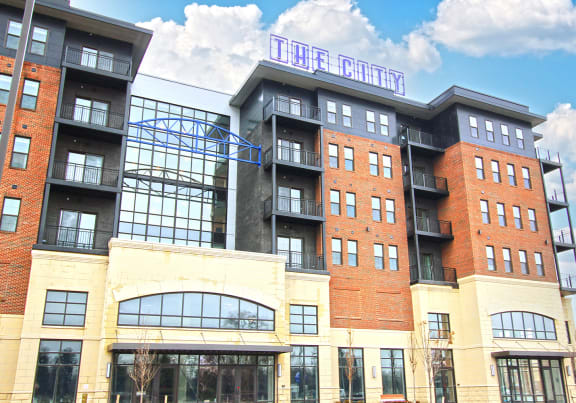 This apartment is located within The City Apartments; a luxurious controlled-access building with elevator access to each floor, secure garage parking, and an impressive lineup of resort-like amenities.
The City has been a consistent favorite among our guests thanks to its upscale design, peaceful yet energetic vibes, incredible location near OSU.
Ideal for medical professionals and executives who need corporate housing, you'll still be practically right next to The Ohio State University with a 5-10 minute commute to The James Cancer Hospital, Wexner Medical Center, Ross Heart Hospital, Nationwide Children's Hospital, Ohio Health Grant Medical Center, and more.

This furnished rental near Ohio State offers an easy commute to nearly every part of Columbus with nearly all suburbs (and Downtown) accessible in <20 minutes.
Feel free to take a look at The City's website, but don't let their student-focused marketing fool you. Thanks to high rents and a location off the beaten campus path, this community is sparking clean and surprisingly quiet.
While many students do live there, they seem to be a very unique and serious type of students who are willing to pay a premium for peace, quiet, and upscale living.
We regularly host c-level executives, doctors, and other professionals at our furnished apartments within The City, and every one of them has loved it.
Perfect for stocking up on groceries and other essentials during your stay, there's a Target conveniently located just 5 minutes away at the Lennox Town Center.
When it comes to dining and entertainment, nearby hotspots include The Short North, German Village, and The Arena District…all accessible within 10 minutes by car.
The popular Polaris and Easton areas are only 20 minutes away and offer hundreds of additional restaurants and shops to keep you entertained.
Head downtown (10 minutes) to see the Columbus Blue Jackets in action (NHL hockey) Nationwide Arena, catch a Columbus Clippers baseball game at Huntington Park, or enjoy an action-packed soccer game at the Columbus Crew's stunning new Lower.com Field.
Get your culture fix at the famous interactive COSI science museum or the surprisingly impressive Columbus Museum of Art which features pieces by famous artists like Claude Monet and Vincent Van Gogh.
Broadway shows and other events are constantly rotating at the nearby Downtown theaters (Ohio Theater, Palace Theater, Southern Theater, etc.).
More of an outdoor adventure person? This community offers a convenient bike storage rooms and boasts countless parks within 20 minutes' drive where you can hike, kayak, or even explore caves (check out Olentangy Caverns!).
Community Amenities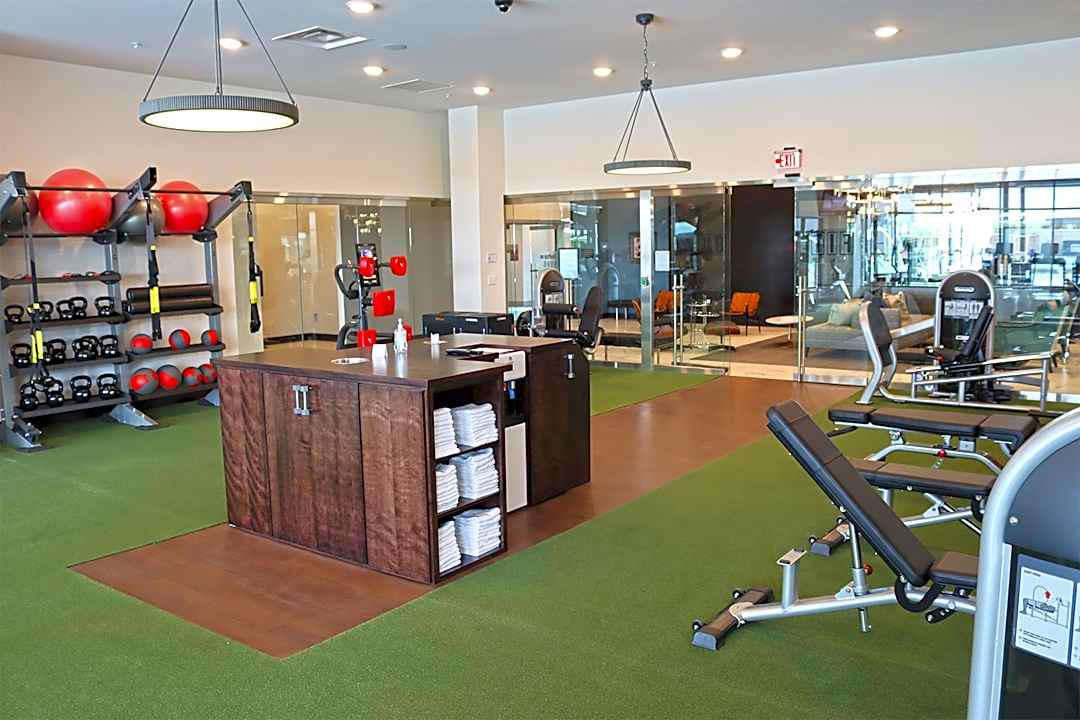 Getting in the best shape of your life during your stay couldn't be easier.
This apartment is conveniently located on the 5th floor amenity deck where you'll have fob access to the stunning rooftop pool and fitness center!
The fitness center is spacious, modern, and incredibly well-equipped (the best we've ever seen in an apartment community). It offers a wide variety of high-tech cardio and strength machines, dumbbells, and other equipment.
You'll even have access to the tanning spa and a large yoga room with mats and various stretching equipment.
During the Summer months, the resort-style pool area comes alive with BBQ grill stations, plentiful lounge chairs, tables with umbrellas, corn hole and giant Jenga games, fire pits, and more.
If you're too busy to relax at the pool, at least grab yourself a fancy afternoon coffee from one of the barista coffee machines available in both the main lobby and 5th floor clubhouse.
If you like to recycle, you'll love the complimentary valet service that picks up bagged recyclables once a week from your apartment doorstep.
How To Rent This Furnished Rental Near Ohio State
Renting with us is easy! It only takes about 2 minutes online.
At the time of reservation, you simply pay for your first 30 nights via any major credit/debit card.
All taxes/fees are included in our flat rate except for a one-time (not per month) cleaning fee of $299 and a refundable $500 damage deposit. Pets = $5/night extra.
Once you move in, you're welcome to stay as long as you want. There's no need to worry about other guests booking future dates you might need.
We just charge the card on file once a month for 30 nights at a time ("pay as you go").
Our terms are always month-to-month, so you're free to move out any time. Just give us 2 weeks' notice.
At that time, if you happen to have already been charged for unneeded nights beyond the 2 week notice period, we refund them.
Our all-inclusive rates include everything you need for a comfortable, stress-free stay:
All Utilities (gas, electric, water, sewer, trash, recycling, etc.)

Parking (free parking for up to 2 cars)
High-Speed WiFi
DirecTV
Comfortable Furniture
Beautiful Decor
Luxury King Bed

Linens & Towels

Kitchenware
Full-Size Washer & Dryer
Cleaning Supplies
Fitness Center & Pool Access
Flexible Month-to-Month Lease Terms
Free Cancellation/Easy Changes (terms apply)
Local 5-Star Customer Service
…and much more.
When you stay with us, you get a lot for your money.
But most importantly, you guarantee yourself comfort, convenience, and peace of mind.
Say goodbye to typical corporate housing with its dusty rented furniture and sad motel art.
You can reserve this apartment now for an all-inclusive rate of only $169/night or $5,070/month $129/night or $3,870/month.
There's no easier way to rent a furnished rental near Ohio State